Get paid via payment links
Some stores do not need a complex computer system to generate purchase orders, keep track of customers and invoices. orders, keep track of customers and invoices. Small stores, with business models where business models where communication with their customers is carried out directly on social networks need a much more agile on social networks need a much more agile collection tool, so we have created 4Geeks Links.
4Geeks Links allows you to generate payment forms (without code) in seconds, and send them to your customers via email, Instagram, Telegram, WhatsApp, SMS etc. Your customers will be able to pay with any bank card, securely.
Independent merchants whose offer is based on professional services (lawyers, accountants, coaches, teachers, home gyms, consultants, tour guides, etc), are those who will be able to use 4Geeks Links to charge their customers.
info
To generate payment links, you must be a merchant-activated. There is no sandbox environment for 4Geeks Links at this time.
note
The personal and bank details provided by the buyer at the time of payment of a payment a payment request, will not be stored under any circumstances by 4Geeks.
Use of Links is free of charge, however, the usual fees of 4Geeks Payments apply. To generate new payment links it is required that the merchant is registered and has production permissions. production](/payments/create-account#production) permissions. There is no maximum number of payment links that a merchant can generate; they are unlimited.
If the merchant has previously uploaded a logo in Configuration, then it will be automatically displayed on the payment request screen.
Create a link​
To generate a new payment link, you must:
In the Console, click on Payment Links in the main menu.
Enter data such as amount, concept, recipient, etc.
Copy the generated link and send it to your buyer through your favorite channel.
You will be able to generate a payment link in any of the available currencies.
By default the link will be sent by email to the buyer.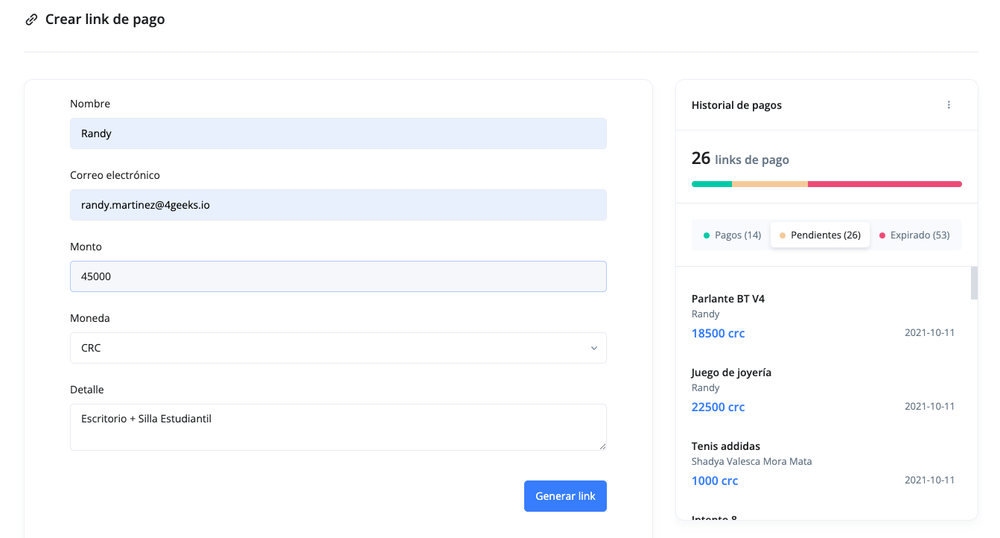 Send a link​
4Geeks will automatically send the link to the buyer by email, but alternatively you can copy and send the payment link via your preferred your preferred communication channel (WhatsApp, Telegram, Instagram, Facebook, etc).
Be sure to communicate to your buyer that the payment link will expire in 7 days. Once a payment link has expired, it can no longer be used, so you must create a new payment link.
The following image shows the message that the buyer would receive by email, from noreply@mg.4geeks.io.
If your buyer claims that he does not receive the payment link through the automatic email, ask him to check his spam folder, or you can even send it by another means of your choice.